ASO Android and iOS MOBILE APP promotion
You pay for install only (CPI). Best prices on market
Start promotion
Boost to TOP with guarantee
Own source of traffic. 1500+ successful campaigns
ASO promotion in search of Google Play and App Store
Unique solution. Boost to TOP in search by keywords in the world
Acquire users across the world
Acquire users from Russia, USA, Europe, India and other countries
Sign up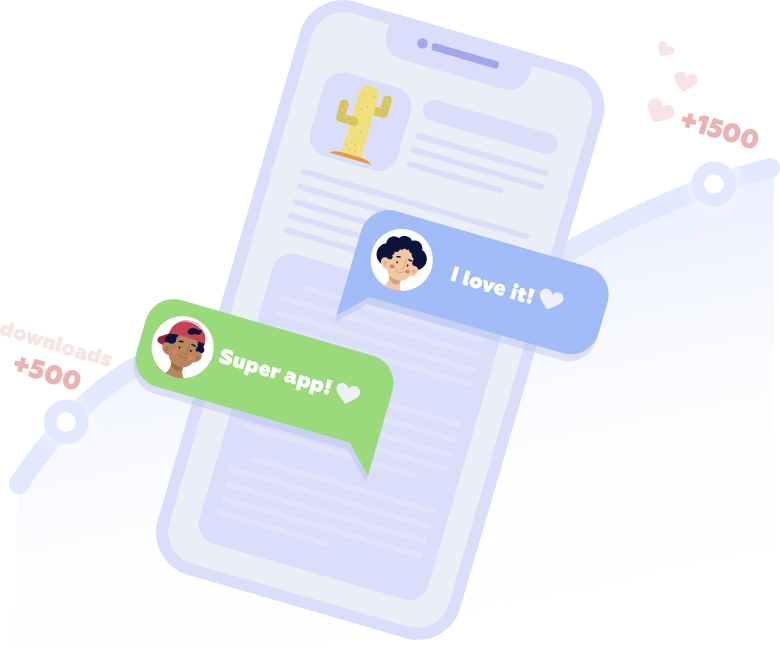 Free analytics for efficient promotion
Useful tools available for each client for free.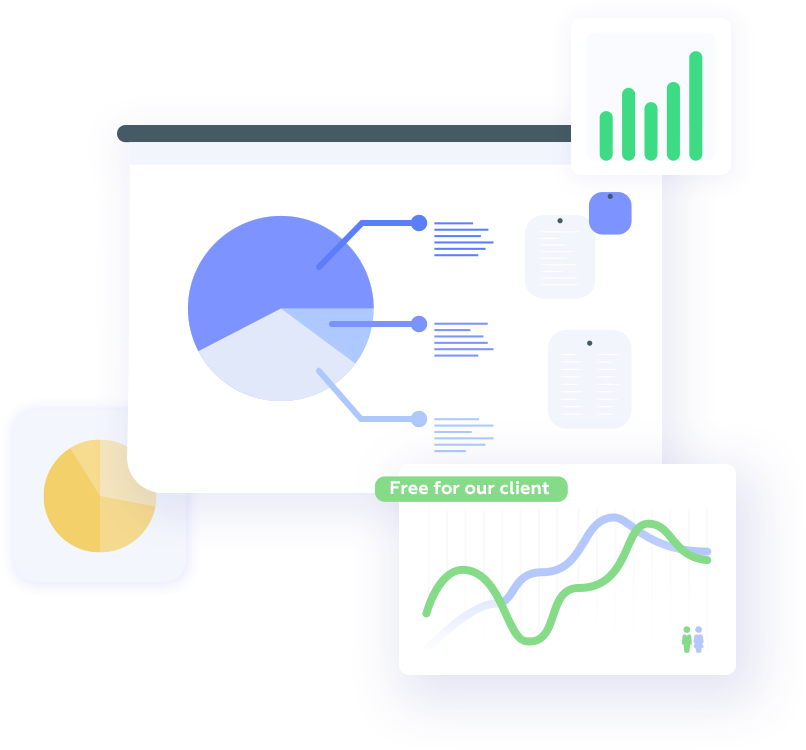 Satisfied developers

added applications

installs for mobile app's

users ready to install your app's

successful campaigns of boost to TOP

2 minutes for a launch of app promotion campaigns
Successful mobile app's promotion
The best solution for your app!
Correct approach to the mobile app promotion is a key success of your application. With the whole range of tools for promotion, AdvertMobile team will analyze and choose the best strategy for your application. Our main task is to increase your profits.
BOOST TO TOP OF GOOGLE PLAY AND APP STORE
App visibility improvement in market will increase your daily volume of organic installs. Great solution for games and social apps. Boost to TOP campaigns are performed with 100% guarantee.
TOP of Games
TOP of category
TOP new
TOP paid apps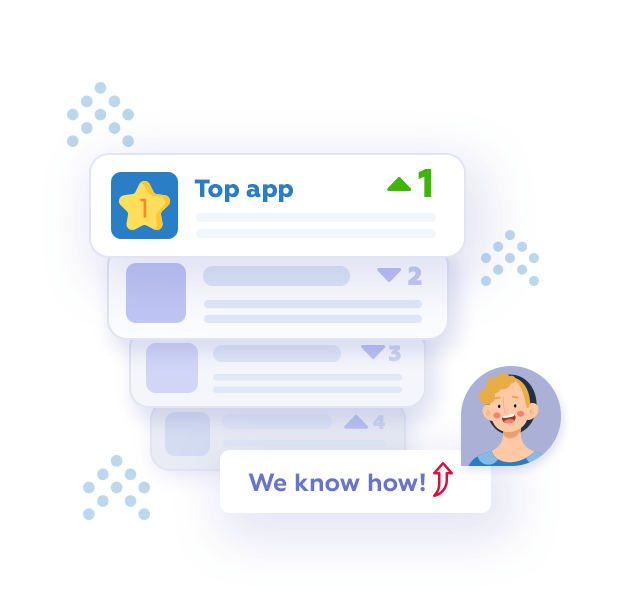 BOOST TO TOP IN SEARCH (BY KEYWORDS)
The main source of organic installs is search. Your app can be found by many relevant keyworlds, but with low position. We know how to boost your app to first positions.
Worldwide
Google Play and App Store
Any keyword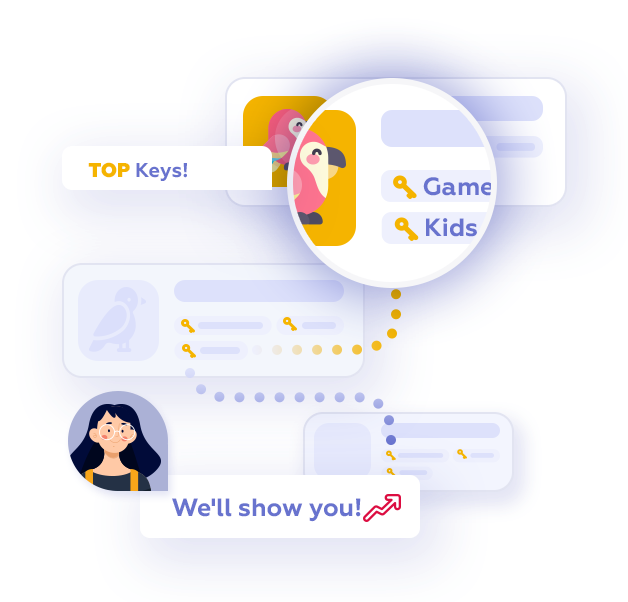 TOP TRENDING SEARCHES
Fixed price
Russia
App Store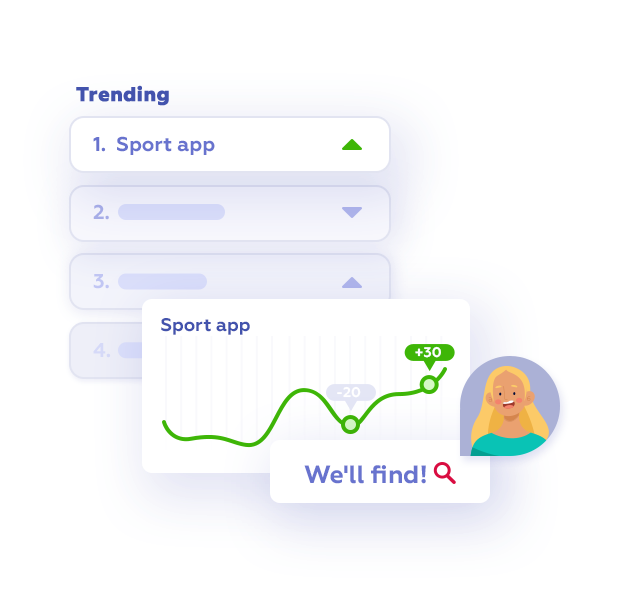 PROMOTION THROUGH YOUTUBE BLOGGERS
We are in touch with more than 500 bloggers on YouTube and are ready to offer their fans your application. We take upon ourselves all the materials, risks and payment. And most importantly - you pay for the CPI installation.
500+ channels
125 mln+ subscribers
Pay for CPI install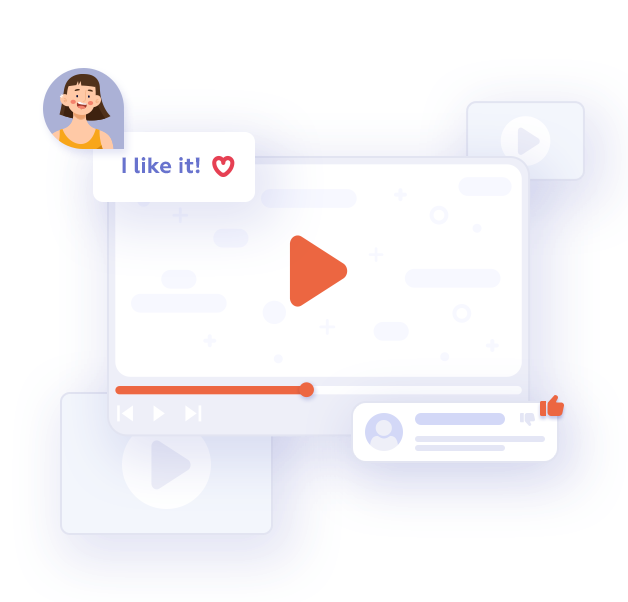 ASO OPTIMIZATION
Text and visual analysis and optimization of the title, description and screenshots. Construction of the semantic core. Analysis of competitors and a very detailed report.
Android and iOS
Worldwide
Detailed report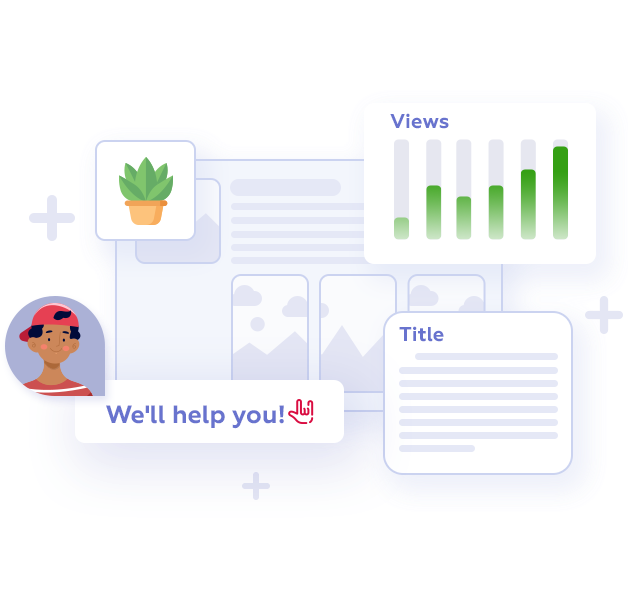 OUR EXPERIENCE
More than 2000 successful campaigns of mobile app promotion. We use just innovative methods of the app promotion.

DEDICATED MANAGER
Your personal promotion manager, who is always ready to deal with issued and is in touch.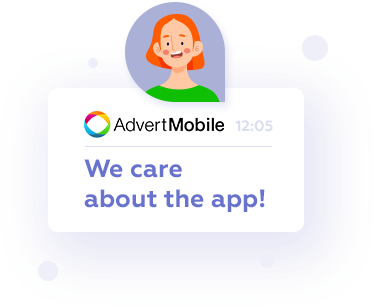 100% GUARANTEE
You can always be sure about results of ad campaign and about the quality of ordered installs.

WITHOUT INTERMEDIARIES
All promotion campaigns are performed with our own traffic and platform usage only.
FEEDBACKS FROM OUR CLIENTS
Automated service. Not expensive. The most important - the traffic is pure.

We have been working with Advertmobile for over a year. We started from small things. Now we order every few days. Managers are careful about the budget, do not rush to launch campaigns. If not everything is ready, they give excellent analytics on organics, and can optimize the application page, graphics and texts. You don't have to read books on ASO, just ask questions and you will be able to find out many loopholes and secrets in optimization here. I want to note a good level of expertise in the mobile application market, as well as extensive experience in various fields. Almost everything you want to try is already in their portfolio. I was pleased with the new analytical service Asomobile, some functions in it are more convenient than in other well-known products. If you don't have the time and money to risk hiring ASO specialists, Advertmobile is one of the best ways to get high-quality organic traffic.

KONSTANTIN (ZEBRAINY LIMITED)
Head of Marketing
During last a couple of years, AdvertMobile became a "magic stick" in the issue of promotion of our apps on CIS market.
Due to the service of AdvertMobile we have always been in trend and were able to react on mobile market's changes in Russia and CIS. ASO promotion, boost to TOP of markets of mobile apps, real traffic without fraud – this is what we have here! Great prices for incent traffic of a high quality.

We are satisfied by partnership. Userfriendly online system for setting up and launch of campaign, low prices. It should also be mentioned that while communicating with company's experts it is always the friendly atmosphere is felt, they are always open and ready to help with support and ideas about the most effective campaigns with low budgets. AdvertMobile gained a reputation of trust and responsible partner.

ALEKSANDR («DALITON» LLC)
CEO
It has been more than a few years of our partnership with AdvertMobile, we would really like to mention a super quality of incent traffic. Everything is easy here – create campaigns and get incent traffic you ordered with set up limits. There are always helpful managers also! Thanks for your help, guys! So, everything is fast, of good quality and with tremendous positive results. Everything just as we like. That's why we are with AdvertMobile.

ANNA ("MINT GAMES" LLC)
CMO
During 4 years I have been developing mobile games in Google Play and App Store. I had used services of large and small companies while ordering incent traffic, but the highest quality of traffic and with low prices I found in AdvertMobile.
I liked the quality of incentive installs done by real people, no bots. The price is competitive comparing to other companies.

AdvertMobile is the leading company, with its own mobile traffic of a great quality. In my business I help developers with their organic installs volume growth, this is the reason to buy incent traffic, mainly by keywords. I can assure you that everything that was set up in personal account, is done, and I can see all processes in my personal account.

ANDREY (CLICKKY)
Head of Business development
I really enjoyed our cooperation with AdvertMobile. The opprtunity to order traffic of a good quality in a short period of time. Comfortable communication with dedicated manager – you get answers really quickly. Self-service system and personal account make it possible to set up and launch campaigns independently any time.

In business partners I really appreciate the ability to fulfill the terms of the contract, regardless of changed circumstances. It shows person's desire to keep confidence and good reputation of partners. That's what I really appreciate in AdvertMobile company. We cooperated in several campaigns and every time the company AdvertMobile fulfilled and even overfulfilled their commitments. Manager of AdvertMobile was in touch during 24/7 and controlled what is happening and sincerely supported while reaching the goal. It is the sort of company whom I can trust. I recommend AdvertMobile to anyone who is looking for company to promote mobile applications.

MAX FRAIERMAN (MARQODE TECHNOLOGIES LTD)
Head of Marketing
Very user-friendly interface, responsive and, what is more important, honest managers, great volume of traffic in Russia, amazing offers and gifts  This is the best app promotion service in CIS for us.

AdvertMobile – is a real team of experts and professionals. They can help while planning the promotion, give advice and share their experience. They always meet commitments, even though it can be unprofitable. If they told – they would do this. Always pleasant and beneficial partnership with AdvertMobile.

ALEKSANDR (AVECREATION)
CEO
more than 20000 developers, agencies and publishers
We value our cooperation with each client. Our goal is long-term and effective partnership. The best recognition for us is Your recommendation.

There are no barriers for us in tasks and goals achievements.